4.02.14
Zweite Geige WI7
New line in Vallunga/Dolomites...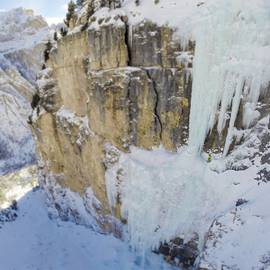 Ice climbing lives in the moment. This I could quite often find out over the last years. Looking for new possibilities on ice, you cannot wait that they would come to you, neither can you plan them. You have to search for new challenges. Everything starts with an idea. The idea comes from an imagination. And this imagination again comes from a picture. Thus the source of an idea is a picture, a picture that shows a worthwhile possibility. Several such pictures show up through an ice climbing season, but quite few of them turn into an idea. The reason for that is the evaluation of the picture. We have to check out, whether the idea looks like fun or not. After an ascent of the dream-route "Zauberflöte" M9/WI6 at Vallunga by begin of this January we saw a line to the right o fit, which was worth a try.

After an intense week with the aspirant guides we have been quite tired, but our motivation was high. On January 28th we went together with Elias Holzknecht, our companion behind the camera for this season. First we climbed Zauberflöte to fix a rope for Elias. We wanted to do the pics directly from our first ascent. Short time later Benny jumped on the first pitch of our project, an awkward corner with poor rock quality. After 20 meters of climbing and some placed cams he found a belay at a hanging icicle. Now it was my turn to follow this pitch with joy. The next turn was the other way round – I had a hard time on the free hanging ice formations. The climbing was quite demanding on the ice with many air inlays and pipes. On the other side you had to think of every movement to not destroy the hanging ice daggers. As Benny came up to the belay with a smile on his face, he just said:"It's way more comfortable to follow grade seven ice." But already on the next pitch he also had to give everything. A thin smear of ice led him to the big ledge where the last free standing pillar is waiting. This four pitches make "Zweite Geige" to a serious but interesting line. We could climb the route clean, without the use of any bolts or pitons.

There is a trend visible on the climbing scene that many climbers do think about the style of their ascents. We already have been trying to climb new routes without the use of bolts, in case the rock and the protection did allow it. We never take high amount of risk only to climb clean. When the structure does not allow natural protection, placing bolts does not mean clashing the style. But if someone wants to compare different routes, it is important that same styles have been compared. Clean means, that the route is clean in front and after the redpoint ascent. Which means that there stays no gear in the route, neither is preplaced. Trad means that it is possible to find pitons on the route. After all it is everyone's choice to find his favourite style, but never forget about the fun on the thing.